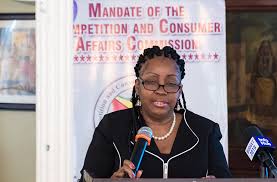 …warns CCAC Director Dawn Cush
GUYANA has no legislation which governs the behaviour of building contractors and this Director of the Competition and Consumer Affairs Commission (CCAC), Dawn Cush, believes should be addressed soon.
With the absence of such legislation, she told the Guyana Chronicle that anyone, even those without ample qualifications, can become or pose as a contractor to the eventual detriment of citizens.
She also noted that while the Guyana National Bureau of Standards (GNBS) has developed a Building Code, this has not yet been given the necessary legislative power for enforcement. "There's no legal definition of a contractor and there's no law governing contractors, so it appears that anyone with some knowledge of building homes is considered a contractor," Cush said.
The commission is in the process of developing a Homebuilder's Roadmap to guide consumers in the process of home-building but, in the meantime, Cush noted the dangers that can befall persons who are not thorough or wise during the process.
She stated: "Don't' get me wrong. We have good contractors and we have bad contractors. Long ago it was architects who would design a home. When an architect designs a home, that architect is somebody who is certified after a period of study so they would build the home in such a way where you would get breeze coming in; you wouldn't have sun in your bedroom, but some contractors don't build houses like that [now]. Most of the homes are like a square box [and this] wouldn't bring out the best in the homes."
Apart from houses which have collapsed, causing deaths, Cush said that there are even social media scams which now seek to swindle the ill-informed out of their hard-earned money.
Thankfully, she noted that these efforts –some to sell three-bedroom homes as cheaply as $2.5M — have not been successful to the commission's knowledge on a large scale.
"The Homebuilders Roadmap is intended to provide consumers with the relevant knowledge when they decide to invest in building a home. We know that this is not a cheap investment but a rather costly one. We also know that there are ads popping up on social media with some remarkable house fees. If it looks too good to be true then it's not," Cush cautioned, adding:
"[As far as I know] that scam hasn't worked, because every time I read the comments people seem to be making a mockery of [the individual/s]."
While the roadmap will be useful to many, the CCAC director reminded that consumers need to play their part by ensuring they don't take such a serious matter for granted.
"You have to be involved in the process. You can't just leave everything to the contractor, particularly if a woman is building a home. That's the perfect example, because contractors often feel that they can take advantage because she might not have the knowledge a man may have in terms of electrical work, building and so on. So, you have to find out from a person who is a good contractor; who is a good plumber; electrician and so on," she said.
The number of houses plagued with substandard construction is not reducing, Cush noted, stating that for change to occur those in authority "have to want it." Her ultimate vision for housing in Guyana is to see every person living comfortably in their own home. She then gave further advice that persons must ensure they are able to afford a house before building to avoid foreclosure.
"I feel every Guyanese should have a piece of land. Every Guyanese should be able to own their own home and a home that is suitable to them. It could be a simple home, you don't have to build a five-storey home; and what is the most important thing is that you're able to afford the mortgage," she said, advising: "You have to be able to afford a house before you build a house."
Share this post?