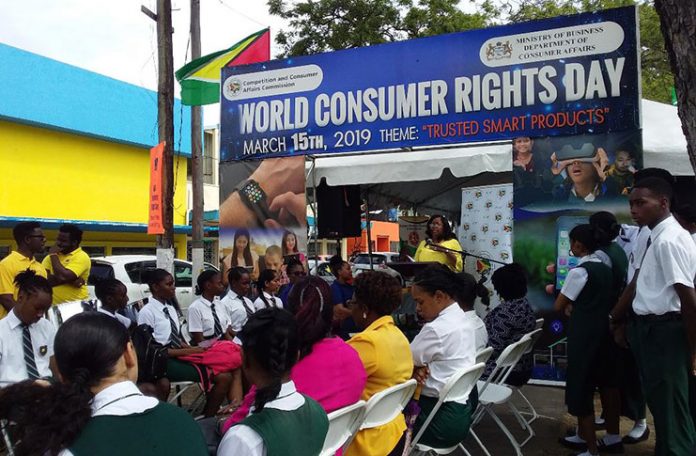 http://guyanachronicle.com/2019/03/15/main-street-expo-puts-spotlight-on-consumer-rights
WORLD Consumer Rights Day was observed on March 15, 2019 and a mini-expo was held by the Competition and Consumer Affairs Commission in collaboration with the Ministry of Business, Department of Consumer Affairs on the Avenue of Main Street, Georgetown, to raise local awareness about consumer rights and needs.
The mini-expo comprised booths from private sector agencies such as the Guyana National Bureau of Standards (GNBS), Consumer Affairs Division, Public Utilities Commission (PUC), Global Technology Inc., Guyana Telephone and Telegraph (GTT), Digicel Guyana, Starr Computers, the Food and Drug Department, and the National Data Management Authority (NDMA) of the Ministry of Public Telecommunications.
The representatives of the various agencies distributed flyers and keepsakes, as part of an effort to raise awareness on consumer's rights.
The event, formally launched with accompanying steel pan music, was celebrated under the theme "Trusted Smart Products". Several speakers highlighted the event as a chance to demand that the rights of all consumers be respected and protected, and protest against market abuses and social injustices which undermine those rights.
Director of Competition and Consumer Affairs Commission, Dawn Cush, said World Consumer Rights Day is celebrated annually to protect consumers, and lobby for safer products. She added that the commission has established an eight-step basic consumer rights guideline, through its Consumer Affairs Department, to create awareness for consumers when making purchases of smart devices and appliances.
The move, she noted, is to educate consumers of their rights and how they can be protected when using 'smart' devices and appliances in their everyday lives. She pointed out that the agency is also geared towards the improvement of consumer control and privacy.
In 2006, the Competition and Fair Trading Act (2006) was passed. This Act allowed for the establishment of the Competition and Consumer Affairs Commission. On January 5, 2010, the government and the Caribbean Development Bank signed a CART Fund Grant Agreement (No. 21/GY). This brought about the formal establishment of the Competition and Consumer Affairs Commission (CCAC) of Guyana.
Meanwhile, Information and Communication Technology (ICT) Engineer, Rondel Mc Arthur of the NDMA's Cyber Security Division, informed of his unit's responsibility for digitising government services and ensuring citizens have access to ICT hubs countrywide. He explained the promotion of distance learning in rural areas, and his division's mandate to maintain ICT security in Internet connecting devices as they could be hacked.
Mc Arthur advised users, when using their smart phones, televisions, appliances and watches, to protect them with passwords. The ICT specialist also warned persons to disable their webcams when not in use. These devices can be accessed by hackers, who could record compromising photos and videos. He also advised about the installation of updates for devices, to protect users.
Co-founder of National Science, Technology, Engineering, Mathematics (STEM) Project in Guyana, Karen Abrams, expressed similar sentiments. She noted that any devices that have internet connectivity are prone to being hacked thus posing a security threat. Abrams also stressed the need for all devices to be password protected. Abrams further advised that children, under the age of 15 and younger, be monitored by adults when using smart devices because they have access to many apps, some of which could contain harmful malware.
Noting the positives, she related that 75 per cent of people in Guyana have Internet access. This, Abrams explained, is beneficial in terms of educational purposes for online studies among other things, "as such security measures should be put in place to ensure consumer rights are not violated."
Abrams also pointed out that smart phones, with Internet access, have improved the quality of life in Guyana in the context of the devices being used to boost the healthcare services and enable access to "smart classrooms". She further highlighted some security risks when using smart phones and urged consumers to know their rights, and be educated by researching the products before purchase.
In delivering closing remarks, Director of the Department of Consumer Affairs, Muriel Tinnis-Duke, said they have made significant strides in protecting and educating consumers.
Additionally, the Consumer Protection Agency allows consumers to have redress when they incur losses noting the control rights after purchase, she added.
The event attracted scores of students and passers-by, many of whom were rewarded mementos after successfully answering questions posed by the agencies' representatives.
Share this post?